Picasso's Napkin
The Myth Of Overnight Success.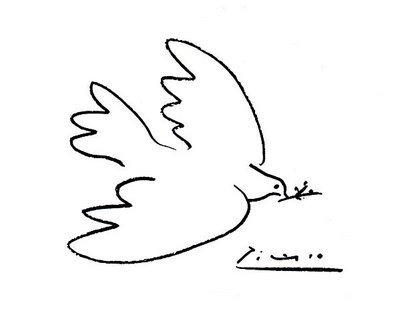 Picasso is sitting in a Paris café when a fan approaches the artist and asks that he make a quick sketch on a paper napkin. Picasso acquiesces, draws his dove, and promptly hands it back to his admirer and asks for a rather large sum of money.
The fan is flummoxed. "How can you ask for so much. It took you a minute to draw this." To which Picasso replies, "No, it took me 40 years."
At my age and level of experience as a musician in New York City, I've become more at ease with requests for specific fees for my services. I'm not hesitant at all. I'm willing to walk away when I feel I'm not earning the proper amount.
I was asked to participate in a music project in March of this year. A few weeks later, I was asked to be in another one. I was a bit skeptical. Why? We were asked to perform for free. The reason was about showing unity. The project was an attempt to bring joy during the pandemic. It seemed cool at first, but the truth is, we weren't getting paid.
Soon after completing the first project, similar ones were requested--for free. I hesitantly did the second, but shortly after that, I stopped giving away my services because I wasn't being compensated for what I provided.
When all of this was happening, it seemed as if I was the only musician asking to be paid. It was odd. 
After thinking it through and talking it over with people I was close to, I became convinced I was making the right decision with my demand to get paid moving forward. I had enough of being generous. I reminded everyone I worked with and for, I'm a professional musician. That means I get compensated for what I do—especially when my efforts are being used in a massive promotion. Someone was going to benefit from its use; why not me?
After some back and forth behind the scenes, there was a decision not to use me for the next project. Another musician would take my place. That session never went anywhere. The twist to this saga was this; about a month later, the people I worked for decided to pay us all for the work we did after all.
I guess holding out was worth it in the long run.
Remember this concept when negotiating for a salary, asking for a fee for a product or service, or just knowing your worth in general. It's one of the many keys to success. Getting turned down, possibly walking away during a negotiation may be difficult, but when you know your worth, you can live with the choice you make.
Guy Raz's podcast, How I Built This is an excellent recounting of how hard people work to achieve their goals and why we pay for their products and services. Raz interviews successful entrepreneurs about their history. He highlights the early missteps that nearly derailed their business but are unseen or forgotten by the public. The podcast shows the long, unglamorous path most successful people follow.
The overnight success myth persists because it's easier for us to ascribe success to luck or timing. People don't usually pay attention to the undying-determination and thousands of hours of hard work it takes to be at the top of their field. 
People must value their work, time, and skills they bring to the table. They should demand that others respect it enough to pay for it. Suppose you have put in the years to develop your skills and hours to produce a quality product or service. In that case, that time and effort should be appropriately compensated for you to continue practicing your profession.
Picasso's napkin is such a poignant tale. I feel it resonates with all creative people. It speaks of experience and ease. 
The years of creating, experimenting, refining, and working with various people in different locations come at a steep price. These experiences lead to proficiency and ease. It may appear simple, but it takes years of experience to make things look easy. 
To be able to create a masterpiece in five minutes might have taken 40 years. It took me 28 years to get where I am. I demand to get paid for what I do, just like an attorney would represent you in a court of law. Yes, we all might do a pro-bono gig here or there, but the art we create as musicians is just as valuable as any other product or service.
Thought-Provoking Articles:
Something Interesting:
Who knows when I'll see these guys again onstage. Until then, I have this.
Clayton Craddock is an independent thinker, father of two beautiful children in New York City. He is the drummer of the hit broadway musical Ain't Too Proud. He earned a Bachelor of Business Administration from Howard University's School of Business and is a 28 year veteran of the fast-paced New York City music scene. He has played drums in several hit broadway and off-broadway musicals, including "Tick, tick…BOOM!, Altar Boyz, Memphis The Musical, and Lady Day At Emerson's Bar and Grill. Also, Clayton has worked on: Footloose, Motown, The Color Purple, Rent, Little Shop of Horrors, Evita, Cats, and Avenue Q.
You can also follow me on Instagram and Twitter.