Broadway Lives Matter
Over 97,000 of us are being dismissed at unimportant or non-essential, yet we bring in $14.7 BILLION to the economy of New York City.
NOTE: This is an updated edition of an essay I wrote and published this on July 26th. You can read the original HERE: http://claytoncraddock.com/broadway-lives-matter/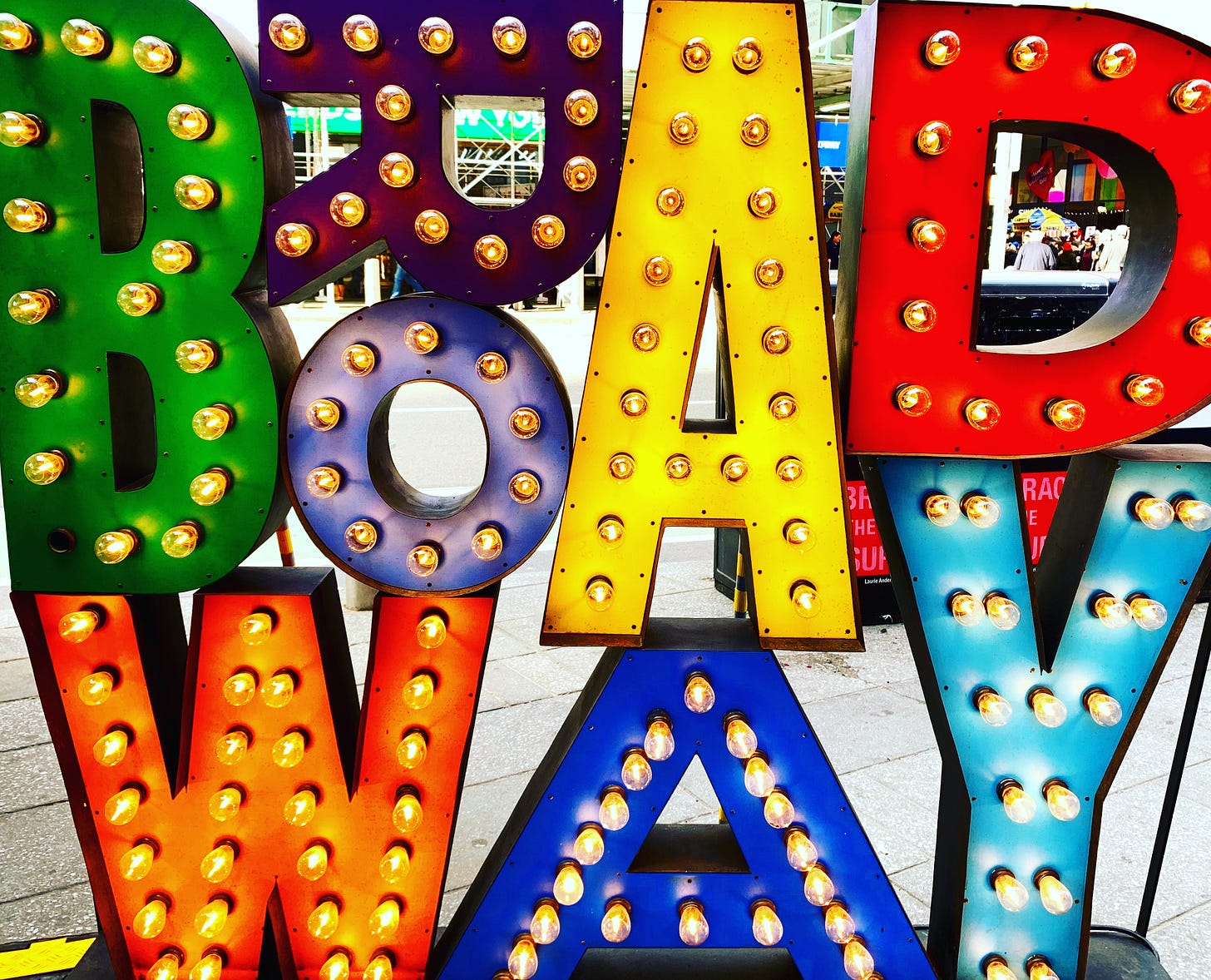 The Broadway League announced all Broadway shows would remain closed until June of 2021. There are no plans at all to re-open. This is devastating news because I am one of the many people directly affected by this announcement.  I have been playing drums in Broadway musicals for the past twenty years. My last show, Ain't Too Proud - The Life And Times Of The Temptations, is one of the many hit musicals affected by this announcement. 
On March 12th of this year, when we heard we weren't allowed to return to the world we once knew, we were genuinely disappointed. Like so many others, we assumed it was temporary. We all wondered if we would get paid by the production and for how long that income would last. Fortunately, our various unions negotiated terms that kept us afloat until the end of March 2020. Since then, we've been on our own.
It's one thing to be financially responsible and have 3 to 6 months of income saved in case of an emergency, but it's another to be required to have 12 to 18 months of savings. I'm not sure how many people working anywhere in America are prepared to stay afloat for fifteen months or more. Also, consider health insurance for people working on Broadway. In the musician's union, contributions towards our health insurance plan and pension are dependent on union work. Those benefits ended when the work opportunity disappeared. Many are now wondering how to navigate through a new sea of uncertainty.
Several political pundits proclaim the new stimulus package shouldn't include a $600 bonus for people forced out of work because it "pays people to stay home." They feel it disincentivizes unemployed people from finding work.
The $600 enhancement was designed to keep laid-off people at home rather than sending them out looking for work at the height of the pandemic. That boost, which is currently being battered around like a political football by our congressional leaders and our current president, has helped millions survive and pay bills. What about the people who want to work but aren't allowed to return to their previous employer?
The overwhelming majority of working Broadway professionals have struggled long and hard to achieve their goals. They may have dreamt of dancing or singing on the stage since they were very young. Many people I know have been working their way into the world of a pit musician for decades. Most view this as more than just a job; it's our life. We love what we do.
Has anyone thought about the performer who auditioned for the role of a lifetime and was about to have her Broadway debut in April of this year? In the past, she may have been struggling financially, bouncing around from job-to-job. She finally lands a role that will not only pay her very well, but it would provide her health insurance benefits and a retirement plan. Then, the bottom drops out because of the pandemic.
What about the musician who plays in the orchestra of a long-running musical? He has consistently earned well over six figures on Broadway for years. Today, he is unemployed. He can't work in theatre in New York City. He cannot even fall back on touring or any other live performing option because they have all gone dark. It's not because he desired to sit home collecting his enhanced unemployment benefits rather than work; it's because he isn't allowed.
Who is thinking of the stage manager, head electrician, carpenter, props manager, or house manager of a theater when there are no jobs to return to? All of them earned respectable salaries and are out of work through no fault of their own. Consider the other industries affected by Broadway's closing; hotels, restaurants, nightclubs, laundry, costumes, makeup, hair, lighting, sound, concessions, merchandisers, and everyone connected to them. 
Over 97,000 people whose jobs are related in one way or another to Broadway are currently unemployed. We are not interested in sitting around all day watching daytime television. We all want to get back to doing what we love to do; entertain, and make people happy. The state unemployment insurance benefit and the federal supplemental payment has kept all of these people afloat. 
Many media outlets aren't focusing on the lives of the people who are part of this forgotten industry – people taking a real pay cut during this pandemic. I'm quite positive that most people who work on Broadway don't want to rely on government money; they want to work again.
It's been suggested that we could all go out and find new jobs. Where exactly would we use the specialized skills we've been honing for decades? The skills we've perfected for Broadway audiences to enjoy aren't necessarily transferrable online or other industries.
We're perfectly capable of doing the jobs we love. At the moment, the New York State government isn't allowing us to return to work. Ask yourself; if a neurosurgeon found themselves unemployed because all of the hospitals in their state had shut down any non-COVID-related procedures, would anyone suggest they immediately switch careers and work in construction instead? Moreover, it is doubtful their income would be even close to comparable.
Anyone reading this should understand an entire industry of people who earns more than the state unemployment and federal supplemental benefit combined. The New York State maximum unemployment benefit plus the Federal pandemic enhancement equals $1,104 before taxes. This is often less than half of what most in the Broadway industry earns in take-home pay.
The industry I work in has an enormous reach and impact. Broadway contributes approximately $14.7 billion to the economy of New York City. Broadway's attendance figures beat the combined attendance of the New York metropolitan area's ten professional sports teams: the Mets, Yankees, Rangers, Islanders, Knicks, Liberty, Giants, Jets, Devils, and Nets.
Almost 100,000 people in this industry are struggling. We are often dealing with a lack of purpose. We feel a sense of hopelessness when our local political leaders put our industry on the back burner for re-opening, with no timeline of when we will be allowed to work again. We feel dismissed by federal leaders who aren't considering some of the hardest workers in our country. We aren't lazy. We want to return to work. Work that paid more than what unemployment pays. We value our lives, our families, and our profession.
If our governor wants to close businesses in New York City, he has to consider who is directly affected by his decision. It's not only affecting our lives but the lives of our families. We all want to get back to what we love. 
Broadway lives matter too.
Clayton Craddock is an independent thinker, father of two beautiful children in New York City. He is the drummer of the hit broadway musical Ain't Too Proud. He earned a Bachelor of Business Administration from Howard University's School of Business and is a 25 year veteran of the fast-paced New York City music scene. He has played drums in a number of hit broadway and off-broadway musicals including "Tick, tick…BOOM!, Altar Boyz, Memphis The Musical and Lady Day At Emerson's Bar and Grill. In addition, Clayton has worked on: Footloose, Motown, The Color Purple, Rent, Little Shop of Horrors, Evita, Cats, and Avenue Q.